The best of Maui in four days
The trip to Hawaii was scheduled for the end of February, long before the endless rainy winter days started in Seattle. When we booked the flights, I had no idea how much I'll be needing some sun after what turned out to be the rainiest winter Seattle remembers (Whaaaat?!?). I was more than happy to take one week off from work and rain, pack my bikinis and take off to Maui and then Kauai.
*For more pictures and less words, I've got plenty of Maui pictures on Instagram *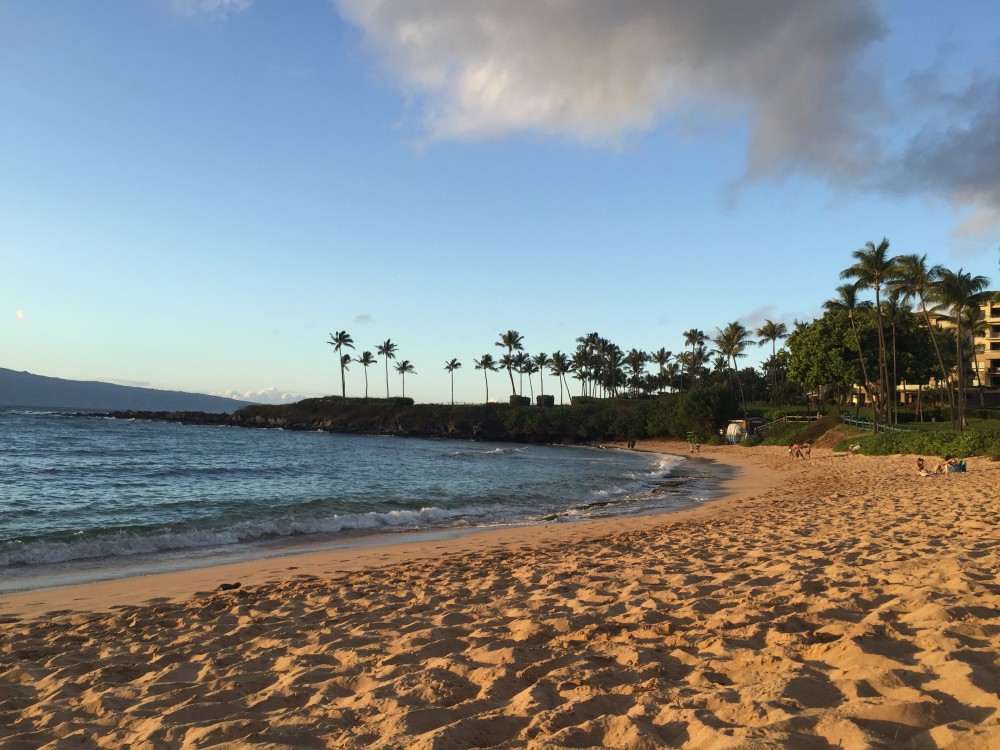 Glad to be away from the rainy winter in the Pacific Northwest
---
We arrived in Maui on a Sunday afternoon, after a long flight from Vancouver. (Pro tip: if living around Seattle, flights from Vancouver are significantly cheaper.) Us and about every other person in the flight were wearing the typical Pacific North-West winter outfit: a puffy down jacket or a rain shell (or both), and I was happy to get rid of a few layers of clothing as soon as we landed.
The plan was to spend four days in Maui, and then to take an evening flight to Kauai, for another four days of well-deserved vacation.
Day 1: Discovering North-western Maui
Not big fans of fancy and overly priced hotels, we decided to skip the hotels and sleep in camping instead, closer to the sea and further away from concrete buildings. We would spend first two nights in Camp Olowalu, a wonderful private camping not far away from Lahaina.
The first day in Maui took me by surprise, as I was expecting less roads and more nature, less fancy buildings and more relaxed beaches. The minutes before sunset are my favorite time of the day, and the sunset from Kapalua Bay Beach in Western Maui did not disappoint. Tired after a long day we went to bed early, looking forward to seeing the sunrise from the Haleakala Crater the next day. And by bed, I mean our small tent and the super comfy and compact Klymit sleeping pad.
Cloudy sunset at Kapalua Bay Beach
---
Day 2: Volcano sunrise series continued, huge waves and sunset views
We woke up early in the morning and drove up the curvy road to Haleakala National Park, looking forward to see the sunrise from the Haleakala Crater. When we got there, we were not the only ones (surprise, surprise). There were hundreds of people waiting for the sun to appear and it was even difficult to get a good spot to enjoy the spectacle. First time I have seen a sunrise at the volcano was two years back in Indonesia, and Haleakala Crater did not disappoint, despite the extreme winds and loud crowds. The initial plan was to continue the morning with an easy hike, but the winds were so strong and cold that we decided to go back to the warmer parts of the island.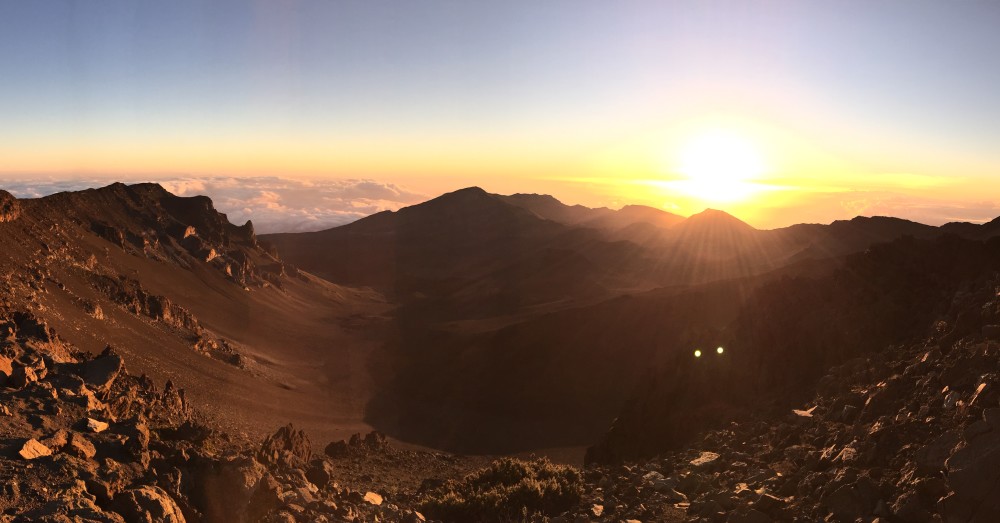 Sunrise at Haleakala Crater
---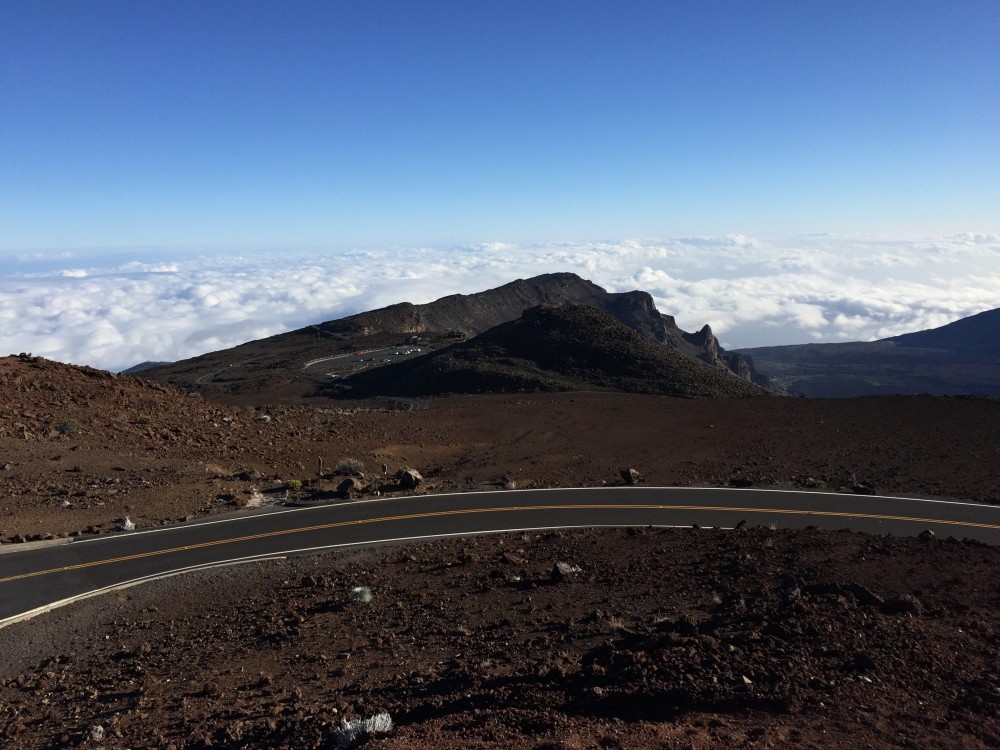 View from the top of Haleakala National Park
---
We drove to the town of Paia where we enjoyed home made ice cream for brunch and delicious flatbread for lunch. We also had the chance to see huge waves at Pe'ahi Jaws, a point well known by world-class surfers, where the waves often reach in winter more than 50 feet, and sometimes even get 80 feet tall. (whaaaat?!)
In the afternoon, I was happy to spend some quiet time on the beach and relax: we swam with turtles at Kamaole Beach Park, had "the best Mai Tai on Maui" at happy hour at Monkeypod Kitchen in Wailea and saw a great sunset at Pa'ako Beach - the most southern beach in West Maui (watch here a short timelapse!).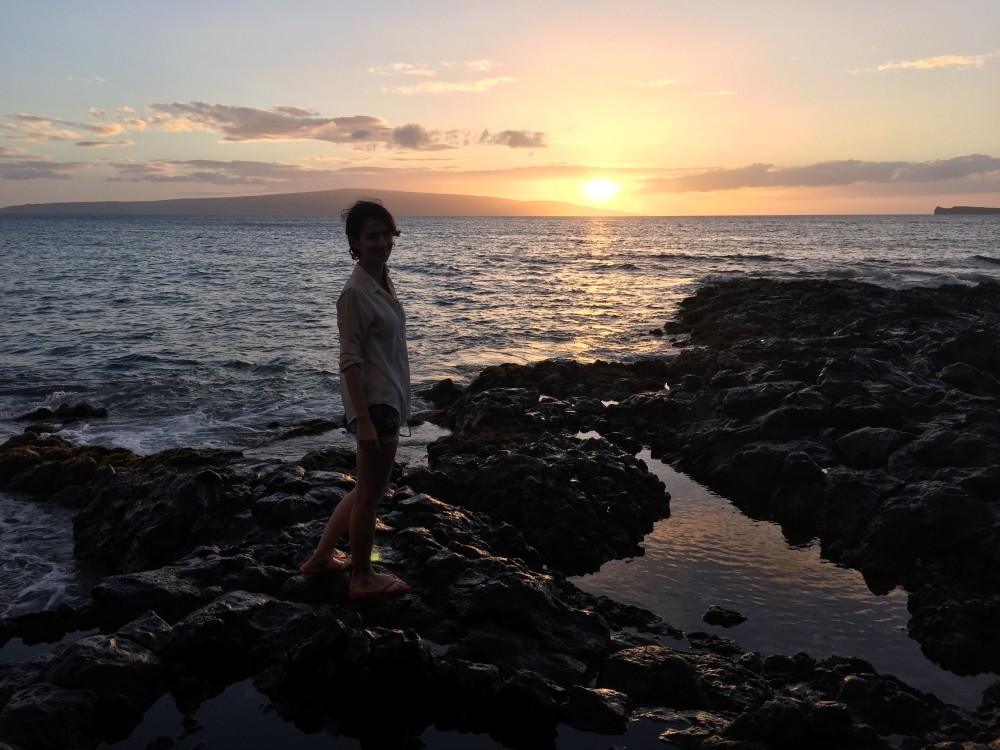 Did I already mention that I LOVE sunsets?
---
From sunrise to sunset, it was an amazing day, and I started liking Maui much more than one day before. After an excellent german wheat beer (Weißbier) and Maui Brewing Co. we called it a day and went back to our quiet camping.
Day 3: The road to Hana
The road to Hana is one of the top attractions in Maui. It is not about the city of Hana, but about getting there. Beautiful flowers and trees, black beaches with sea caves at Waianapanapa State Park, tall waterfalls and amazing views. The climate changes every few kilometers, from sun, to deep fog, to rain and back to sun. Although the distance is short, the stops are every 15 minutes and it took us more than half a day to get to Hana.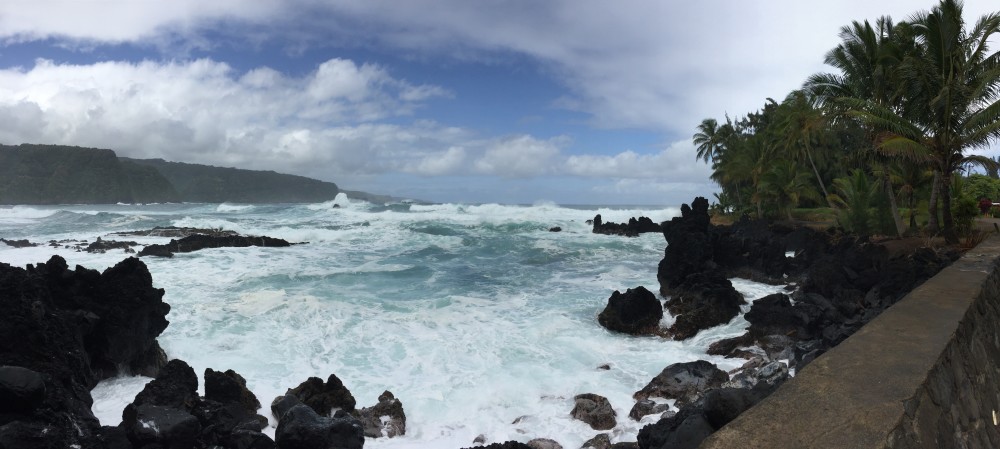 By the time we got to Hana, I was already starving (not surprisingly). We got an excellent lunch at Thai food by Pranee. The car ride for that day finished at Kipahulu Campground, located just a few miles away from Hana, at the base of Haleakala National Park. This was one of the most amazing campsites I've ever seen, with amazing trees and views of the ocean, and where we could hear the waves but not the people around us. The fact that I didn't get spend any time on the beach that day didn't even matter when we got to this perfect campground and enjoyed a few hours from another world, before the sun went down.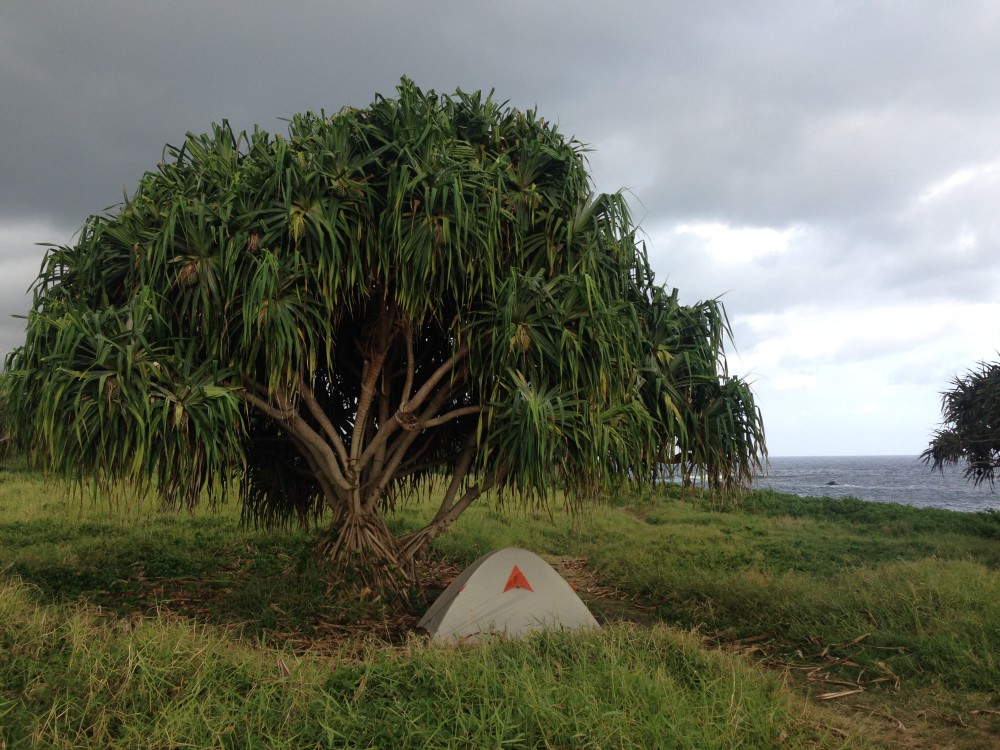 Kipahulu Campground, an amazing hidden gem
---
Day 4: The best day in Maui - swimming in Seven Sacred Pools and sailing among humpback whales
Wednesday was the last day in Maui, and for some reason we woke up really early. When we opened the tent, we could see the sunset without even getting out. The day started with a short hike to the Pipiwai Bamboo trail. It was my first time to see a Bamboo forest, and I was happy to have the trail only for us and to take many pretty pictures. It was an achievement unlocked to be the first hikers on the trail, as this would never happen in Washington State (where people come down from the hike at 8.30AM!) We cooled down after the hike with a swim in the Pools at 'Ohe'O, also known as Seven Sacred Pools - a wonderful a postcard-like tropical paradise.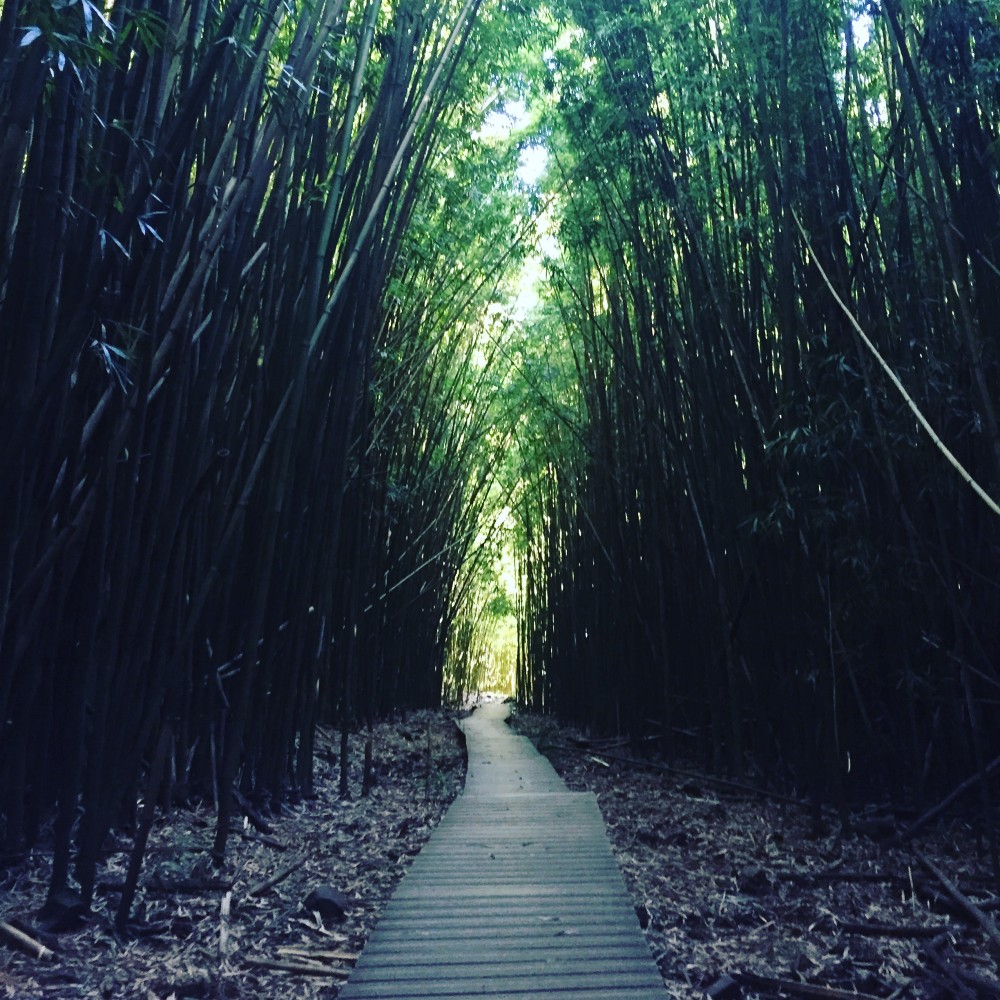 Pipiwai Bamboo Trail
---
Pools at 'Ohe'o aka Saven Sacred Pools aka Instagrammer's Paradise
---
We took the south road to get back to western Maui and made a loop, instead of going back on the same road as the previous day. This was a great idea, as southern Maui is a hidden gem - few people, volcanic rocks and great, great views. Not even the road is as bad as some make it sound, especially for the two of us coming from Eastern Europe.
The last activity in Maui would be a whale watching tour with Sailtrilogy, my first time on a Catamaran and first time seeing humpback whales so closely. I was overly excited to see whales everywhere, some with calves, some alone, to see them breaching or just swimming along, and to find out more about their amazing life and journey from Alaska to Hawaii and back. The crew was excellent and provided us with many interesting facts about Humpback whales, as well as some snacks and yummy drinks (pineapple mimosa, anyone?). Once the tour has ended, we got a bit of rest on the nearby beach, and it was time to head back to the airport and get on the flight to our next destination - Kauai.
Can you spot the humpback whales? Mother, calve and "escort"
comments powered by Disqus