A Three Days Road trip in Southern Oregon and Northern California
We took advantage of the long weekend for Memorial Day and decided to head south for a 3 days road-trip to Southern Oregon on Highway 101 and Northern California. We rented a "fabulous" family van perfect for our group of six, and started the road-trip on a Friday afternoon. After fighting the traffic we finally made it to Newport, Oregon late in the evening, just in time for getting drinks in one of the few bars still open at that time: a karaoke bar with local fishermen, funny dogs and interesting songs. The locals quickly figured out that we were new around there, and we were labeled as being the "weird strangers".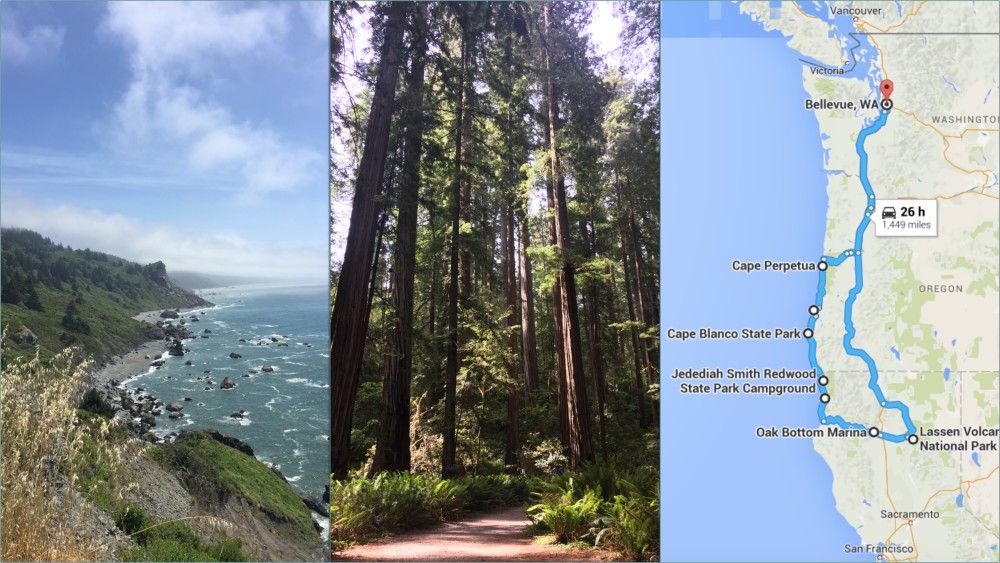 Sneak peak to our trip
Day 1: Oregon Coast on Highway 101 - from Newport to Crescent City
The Oregon Coast has a State Park every few miles, and deciding which ones to visit was not an easy task. Here's what we we got to see that day:

The tide pools at Cape Perpetua - full of life!

Formal Gardens at Shore Acres State Park

Wildflowers, an empty beach and a random beatiful rock. What a perfect spot!
When we got to our campsite in Jedediah Smith State Park later in the evening it was almost dark, but we could see and smell the tall trees around us. We closed the day with barbecue, music and bonfire and excited about the next day would bring.
Day 2: Big, ancient redwood trees
We woke up on Sunday morning and quickly discovered that our campground was located in the middle of an amazing redwood forest. After breakfast, shower and packing everything back to the car (not an easy task), we started exploring Redwoods National and State Park. One day was not nearly enough to explore all the cool places, but here's how we spent our time:
Photos don't do this redwood trees justice

Happy about the view, or after a delicious lunch? Probably both, plus the great company.
Fern Canyon is a narrow canyon whose walls are fully covered with ferns, and I was looking forward for a quiet walk in this magical place. It turned out I was not the only one with this plan, and the Canyon was extremely crowded. During the few moments with no people around, I got to absolutely love what I was seeing, the green surrounding everything, the small waterfalls from the walls and the wet smell.

It's like a Canyon. But with fern instead of rocks.
The Golden Bluff Beach seemed to be a wonderful place and had an amazing campground, and I hope to come back there one day and enjoy the quietness of the place, the soft sand and watch the elks living there.


Elks are such wonderful animals! Please, human race, don't be stupid!
Our campsite for the night was Oak Bottom Marina in Whiskeytown, and we got there late in the evening. The outside temperatures made it clear that now we are in California, and we had a great evening at the bonfire, playing "guess the artists" and laughing until late in the night.
Day 3: Summer days, Lassen Volcanic National Park and a long ride back to Seattle
On Memorial Day, everybody was excited to swim in the lake next to the camping and the fact that the water temperature was a bit too refreshing didn't stop us. That morning finally felt like real summer: beach, waters warm enough for swimming without a wetsuit on and outside too hot to stay for too long in the sun.
The last stop of the trip was Lassen Volcanic National Park. We entered the park from the west side, and since the road was closed only 10 miles later, we only got to see part of the park. Although we only spent little time here, we got to enjoy the beautiful Manzanita Lake and to walk the Devastated Area Trail. We learned a bit about the eruption that took place one hundred years ago and admired the contrasting views in the park: devastated forests, a tall snowy volcano, a clear lake at the bottom and very young rocks (100 years old is really young for a rock!).
But good things come to an end and it was time to embark on the long drive back to Seattle and get back to our responsible adult lives we have over the week. This has been a great road-trip - we loved the coast, the redwood trees and the National Parks in Northern California. We all wished we could have skipped the long ride back and stayed a bit longer in sunny California instead.
comments powered by Disqus